The First Annual Joe Dabbs Open

A founding member of the MARS Fencing Club on Huntsville's Redstone Arsenal in 1963 and of the Huntsville Fencing Club in 1971, Joe Dabbs is a true "three weapon man" who originally took up foil, epee, and saber almost simultaneously because it gave him the opportunity to spend his entire weekends fencing.

Joe began fencing in the early 1950s at the local YMCA near Lowry Air Force Base while serving in the US Air Force. Within the year, both Joe Dabbs and his instructor, Capt. Joseph Velarde, were transferred to Hahn Air Force Base in Germany. Here Joe continued his instruction under Capt. Velarde at a local German fencing club open to GIs. (Joseph Velarde was later to become the fencing master at the US Military Academy at West Point, and was recently named posthumously to the USFA Hall of Fame.)

Joe developed a passion for the sport, and competed almost every weekend in Germany, including in major competitions such as the Aeger Von Soerst, the International Sabre Championship at Traben Trabach, and in foil at the famous Martini Rossi Championship. Joe advanced to the second round of the Martini Rossi, an extraordinary achievement for a fencer who had been training for fewer than four years.

Shortly before leaving Germany in 1957, Joe was selected as a member of the US Armed Forces Olympic Team and fenced in the Military Olympics in Luxembourg. Joe speaks nostalgically of traveling travelling through Europe training, competing, and socializing as a member of the US team. Upon returning to the US, Joe entered college at Florida State University and started a university fencing club. In subsequent years he also helped found the University of Florida Gators Fencing Club, and later, while employed by NASA, the MARS Club and the Huntsville Fencing Club. He taught fencing on and off for decades, including for ten years at the University of Alabama in Huntsville.

On the strip, Joe was always focused, aggressive, and very much a serious competitor. Off the strip, he was until recently an avid cave diver and dive instructor, and remains a genial raconteur par excellence. (Some describe him affectionately as an "old pirate.") Joe has been a constant, active member of the Huntsville Fencing Club since its inception, has been designated by the club as Fencer Emeritus, and remains a trusted advisor. According to Joe, the greatest satisfaction he has had from all his years of fencing has been the people he met.

At present, the Joe Dabbs Open is an epee competition, given the HFC's status as largely an epee club. However, in accordance with Joe's wishes, not to mention his experience as a "three weapon man," we will one day expand the tournament to include foil and saber events, quite possibly as a three weapon team event.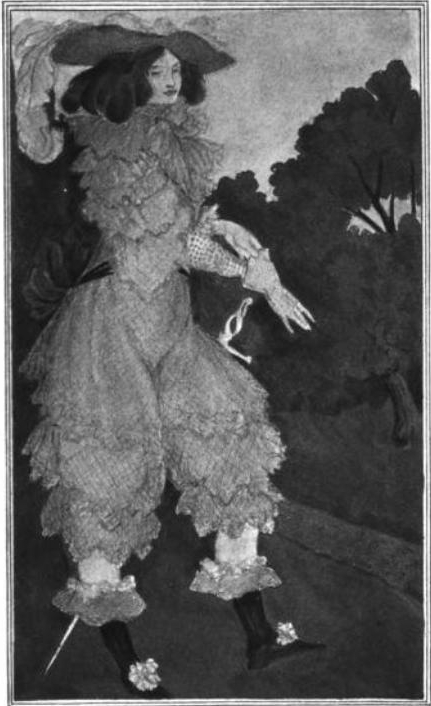 The First Annual La Maupin Open

Named for Julie d'Aubigny, more commonly known as Mademoiselle de Maupin, the tournament consists of two events: a women's open and a mixed open. The 2010 tournament will be held on Saturday, July 24 at Central Church of Christ Gymnasium in Huntsville. Registration for the women's open closes at 8:30, and for the mixed event at 11:30. La Maupin was a superb late 17th century swordswoman and opera singer of often notorious reputation. She once reportedly slew three men, one after the other, in a duel after they challenged her at Versailles.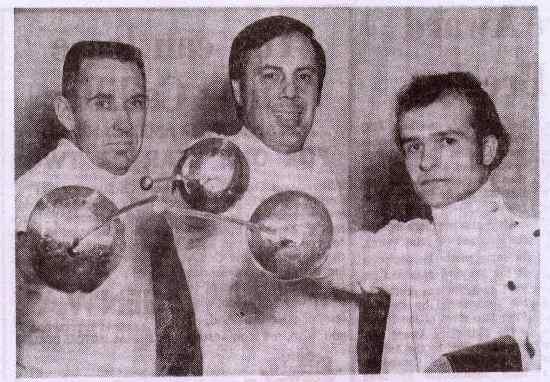 The First Annual MARS Musketeers Open
The tournament is named for Huntsville, Alabama's first fencing club, the MARS Fencing Club, which was founded after John Jordan ran an advertisement in the Marshall Star, the newspaper of the Marshall Space Flight Center, in 1963. Other early members include Joe Dabbs, Fletcher Kurtz, and Elias Katsaros. The club usually met on the Redstone Arsenal in the NASA gym, and the majority of the club's members were "NASA guys" and US Army employees.
The Marshall Space Flight Center was born when Werner von Braun and his coterie of German rocket scientists were brought to Huntsville by the US government to develop missiles for the purposes of national defense and space exploration. At the time, NASA in Huntsville was central to early US manned space flight, including the Apollo program which put men on the moon.
The tournament will be held sometime in the fall, and will include a mixed open epee and probably a team epee event. We're also considering a separate women's or youth event.
Results
Joe Dabbs Open 2010
Mixed Epee: (19 Competitors, a B1 Event ): 1. Brian Parker. 2. Geoffrey Babb. 6. Mike Greene. 7. Kirsten Anderson. 9. Jonathon Thrasher. 10. Whitney Moore. 11. Andrew Davis. 14. Hugh Davis. 15. Derek Welford. 16. Richard Ballard. 17. Kim Story. 18. Nicole Story. 19. Ellis Womack.
Mixed Epee One Touch: (18 Competitors): 2. Hugh Davis. 3. Brian Parker.
Joe Dabbs Open 2011
Mixed Epee(24 Competitors, an A1 Event): 2. Brian Parker 3T. Geoffrey Babb 5. Roland Vincent 6. David Young 8. Robert Coker(Re-earns E) 9. Michael Slanovits 10. Hugh Davis 11. Andrew Davis 12. John Briggs 13. Ryan Kline 14. Emily Stewart 16. Chad Scales 17. Stephen Peters 19. Aaron Muncy 20. Emily Carpenter 21. Christie Peters 22. Richard Ballard 24. Maji Billingsley
Link to Mixed Epee Full Results
La Maupin Open 2010
Womens Epee: (6 Competitors, an E1 Event): 1. Mary Crouch (earns E) 2. Kirstin Anderson 3T. Kim Story 5. Nicole Story 6. Kirsten Davis
Mixed Epee: (17 Competitors, a B1 Event): 2. Geoffrey Babb. 3T. Andrew Davis (Earns C). 3T. Brian Parker. 5. Chad Scales. 6. Jonathan Thrasher. 7. Joe Rogers (Earns E). 8. Robert Coker (Earns E). 9. Ryan Kline. 10. Kim Story. 11. Mary Crouch. 12. John Briggs. 13. Hugh Davis. 14. Kirstin Anderson. 15. Derek Welford. 17. Kirsten Davis.
Professional Photographs of The La Maupin Tournament available through this Link:
http://www.imagequix.com/photog.php?id=P9RLJ98&ec=lamaupin72410

La Maupin Open 2011
Womens Epee: (8 Competitors, an E1 Event): 2. Kirstin Anderson 3T. Whitney Moore 5. Mary Crouch 7. Christie Peters 8. Kim Story
Mixed Epee(25 Competitors, a B2 Event): 1. Geoffrey Babb 3T. Brian Parker 3T. Michael Slanovits 5. Mary Crouch 6. David Young 7. Stephen Peters 8. John Briggs 9. Andrew Davis 11. Chad Scales 12. Robert Coker 14. Hugh Davis 16. Christie Peters 18. Barrie Peters 19. Aaron Cecil 20. Kirstin Anderson 22. Jacob Cecil 23. Whitney Moore 24. Kim Story 25. Maji Billingsley
Link to Open Epee Full Results
MARS Musketeers 2010
2010 Open: Mixed Epee: (25 Competitors, a B2 Event): 1. Brian Parker. 2. Chad Scales 3. Andrew Davis 6. Geoffrey Babb 8. Whitney Moore (Earns D) 9. Hugh Davis 10. Robert Coker 11. Rick Behel (Earns E) 12. Kirsten Anderson 15. John Briggs 19. Kirsten Davis 20. Kim Story 21. Hyun Su Nam 22. Emily Carpenter 23 Aaron Muncy 24. Nicole Story
MARS Musketeers 2011
Mixed Epee:(13 Competitors, an E1 event): 2. Geoffrey Babb 3T. Chad Scales 6. David Young. 7. Mary Crouch 8. Robert Coker 10. Sam Espy 11. Robert Parks 12. John Briggs 13. Maji Billingsley